I was supposed to go into CBC today to sit behind Joe and read a magazine while he mixed our latest masterpiece… But Joe's at home tending to a sick child.
So, I've been sitting at my desk all day with a pounding headache (stress or the air pressure, who knows at this point) staring at my computer… Trying to work…
Days like this are torture.
I'm not working on anything specific, just a few outlines and I'm trying to finish a dirty draft of this stupid screenplay…
I get distracted.
First, I stare at my thinning hair in the webcam… And read about all the various baldness cures… (I do this every day. I'm pretty much resolved to letting nature take it's course, but every day I hope a new cure will be found. They won't announce it in the papers, it's information will be buried deep within the bowels of the interweb… only to be found and used by those geeky enough to know where to look…)
Then I read all the papers. It's nice to see a Canadian newspaper has finally written a piece about Chaperone heading to London… only four days after it was announced.
Then I surf… and surf… and surf… I read about British model, Keeley Hazell's sex tape hitting the internet. So I spend about 30 seconds tracking down the video (find it yourself… pervs) and I can't help but notice that for a model who is famous for posing topless, there is a surprising lack of toplesness in the sex tape.
I spend a few minutes e-mailing this hilarious observation to my friends.
Then I try to get some more work done.
But then, the ultimate distraction. I look down, and there are the pets. Staring at me. I don't know what the hell they want, but I'm pretty sure their intentions are evil.
I mean…
JUST LOOK AT THEM!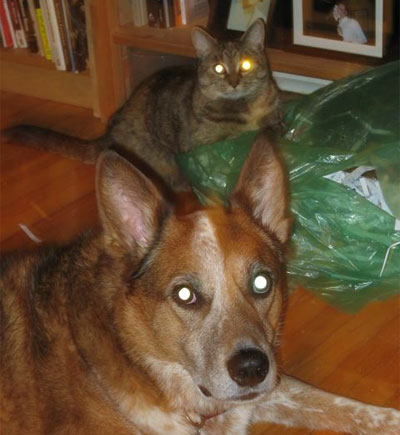 And then I spend an hour taking the picture, editing the picture and finally writing this post.
Which by this point is the most productive thing I've done all day, but it's also the stupidest thing I've ever written.
I debate deleting it, but then I'd have nothing to show for my day… Which is really sad.
I go back to look at my thinning hair in the webcam.
Actual work = 1.5 pages
Time wasted = 5 hours and counting
0