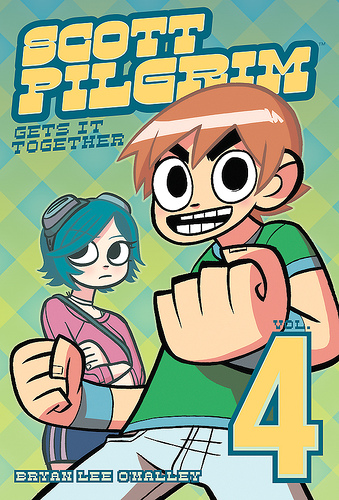 What can I say that hasn't already been said about Bryan Lee O'Malley's awesomely hilarious Scott Pilgrim books?
They're awesome and hilarious.
Book 4: Scott Pilgrim Gets It Together was released today, so if you haven't read the first three, I highly recommend that you run out (or type "amazon.com" into your web browser) and get them.
Bryan's writing is stellar. I tapped him to write an episode of Canadia last season, and he's in line to write another in the spring.
I can't praise the guy enough… And he really doesn't need the praise, since he's pretty much praised by everyone who's ever read his work. If anything, he's got too MUCH praise.
FUCK YOU, AND YOUR PRAISE, MAL!
Buy book 1 at amazon.ca, amazon.com
Buy book 2 at amazon.ca, amazon.com
Buy book 3 at amazon.ca, amazon.com
Buy book 4 at amazon.ca, amazon.com
0